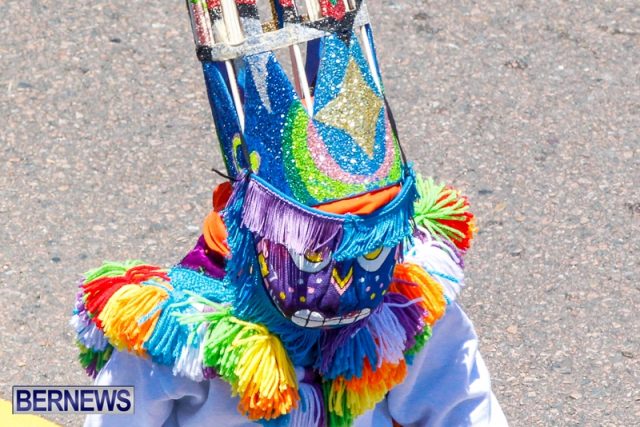 Jubilant spectators couldn't get enough of the Bermuda Day Parade as thousands of people jammed Hamilton to cheer on the colourful procession of floats, majorettes and Gombey dancers that wound through the streets of the city for more than four hours.
The climax of the island's Heritage Month programme, crowds three- and four-deep in places lined the Bermuda Day parade route which started at Bernard Park, moved along Dutton Avenue and on to Marsh Folly Road.
It continued to the top of Cedar Avenue, made a left turn on to Church Street, followed by a right turn on to Court Street.
The parade then moved along Front Street and passed a reviewing stand where dignitaries including Governor George Fergusson and Premier Craig Cannonier watched the procession, with the Premier getting up and showing off some dance moves.
The parade then headed up Queen Street and into the City Hall car park, while excited spectators stood, sat in lawn chairs and even looked on from beneath tents they had temporarily erected on the city's sidewalks as entrants in the festive parade made their way through the city.
Fold-out tables set up by some onlookers groaned under the weight of lavish picnic spreads and the aroma of favourite Bermuda delicacies filled the streets.
Earlier in the day Tyler Butterfield thrilled road racing fans as he coasted to victory in the 13-mile Appleby Bermuda Day Half Marathon, while Rose-Anna Hoey was the first woman across the Bernard Park finish line.
And Dominique Mayho and Karen Smith took top honours in the fast and furious bicycle sprint from Somerset to Hamilton along the Half-Marathon route.
Their wins weren't the only thing to celebrate, as Bermudians got to witness some impromptu romance when Thomas Smith crossed the finish line and promptly got down on his knee and proposed to his girlfriend Elizabeth Simmons. A thrilled Ms Simmons said yes, and Mr Smith slid the ring — which he had carried from Somerset — on her finger and the crowd cheered.
Click to enlarge photos: