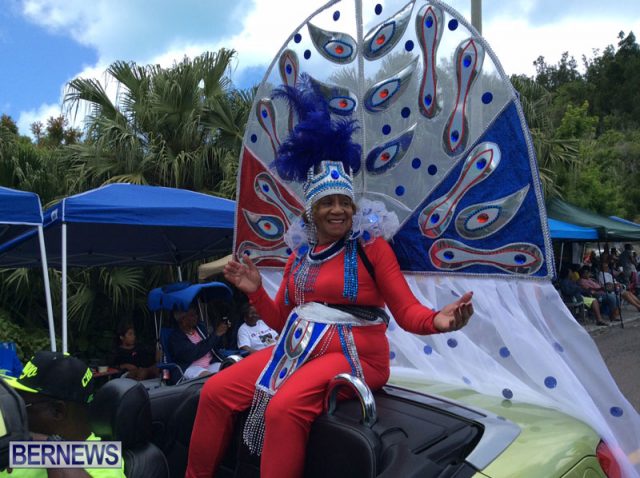 Gombey troupes, dance groups, majorettes, marching bands, floats and more made their way through the streets of Hamilton as thousands of locals lined the streets for the always-popular Bermuda Day parade.
Groups that took part in the Parade included the Bermuda Longriders Motorcycle Club, St. John Ambulance, Bermuda Regiment, Miss Bermuda Lillian Lightbourn, Somerset Brigade Band, Miss Hospitality Cami Bean-Caines, Little Miss Paradise Sedona-Sky Kathleen Duffy, Olde Towne Bicycle Rentals, Bermuda Rifle & Drill Team, Aerie's Adventures Nursery and Preschool Float, The Berkeley Institute Marching Band, Anointed Steps Dance Ministry School, Party Zone, The Ex-Artillery Elite Majorettes, Bermuda Squad Entertainers, Danji Productions Band, Dynamic Revolution Dance Crew, and Up With People.
Other groups took part included the Gombey Warriors, United Dance Productions, Boundary Breakers, Global Link Dance Group, Bermuda Donquili African Dance, Fusion Fitness, Sui Generis Dance Team, For God's Purpose Bermuda Liturgical Dancers, Rated 'E' Dance Group, Places New Generation Gombeys, Big Papa's Surprise Improv Group, PHC Majorettes and Drum Corp, Calypso Queen Eileen and Dancers, Touch D Deck Band, The Motivated Old School Dancers, Ikaz Dance Group, H and H Gombeys, St George's Original Dancerettes, Gombey Evolution, Chewstick Foundation, Bermuda Carnival Revelers and Passion Bermuda.
Click to enlarge photos: