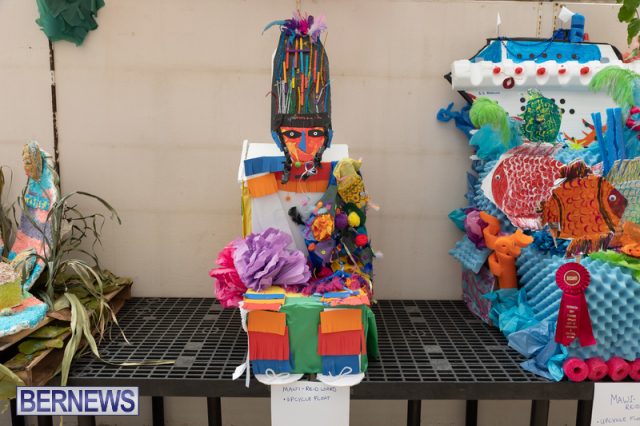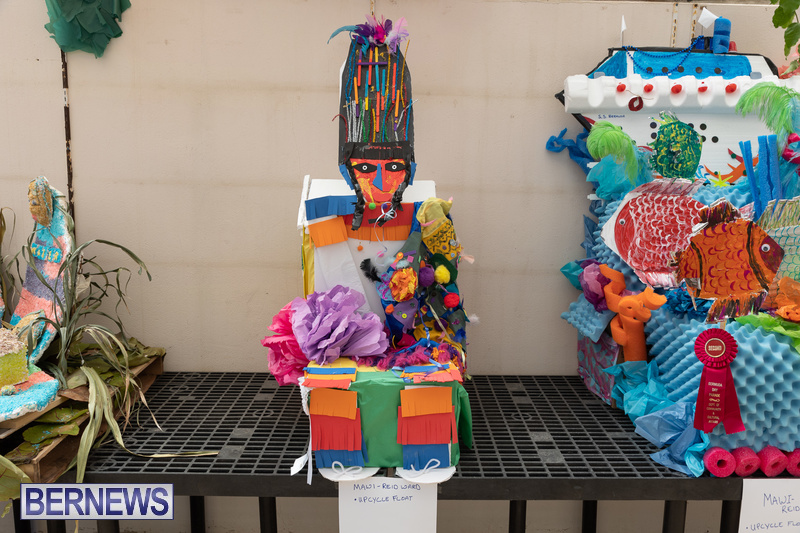 More than 50 entries were submitted for the 2021 Heritage Month Mini-Float Challenge, showcasing a variety of Bermudian themes including traditional Bermuda houses, longtails, coral reefs, cahows, moongates. Gombeys and more.
Minister of Youth, Culture and Sport, Dr. Ernest Peets said, "I want to thank our community for participating in this competition. There are some really innovative and interesting submissions and we're really pleased with the level of community engagement that this Heritage Month activity generated."
"In total, we received 53 entries, including four commissioned by the Department of Culture from Dr. Edwin Smith, Russell deMoura and James Cooper; along with one created by our partner in this mini-float challenge, Kaleidoscope Arts Foundation.
"By all accounts, this proved to be a truly fun way to provide an opportunity for our community to still experience a traditional part of Bermuda Day, even though our parade isn't taking place this year due to the pandemic. So again, I thank the public for their enthusiasm, their participation and for keeping the spirit of Bermuda Day alive and thriving."
This year's judges were former Director of Community and Cultural Affairs Heather Whalen, former Bermuda Arts Council Chair Tona Symonds, and current Bermuda Arts Council Chair Jennifer Phillips.
The winning entries are as follows: 
Natural Heritage Float Category
1st: Department of Culture/Dr. Edwin Smith [Martello Tower]
2nd: Department of Culture/Dr. Edwin Smith [Earl Cameron]
3rd: Amaris Munya [Warwick Academy]
Upcycled Float Category
1st: Warwick Academy Y8 [Marleigh Howes, Chloé Samuels and Billie Rose Kempe and Reya de Moura]
2nd: Betty Azario [MAWI – Cruise Ship]
3rd: Chez Robinson and Family
Art Float Category
1st – 5W Saltus Grammar School [Sea Venture]
2nd – 4R Saltus Grammar School [Lighthouse]
3rd – Warwick Academy– Avalon Packer and other members of Y8CL [scene]
Special Awards [Open to all Judged Categories]:
Premier's Award for Best Float – Department of Culture/Dr. Edwin Smith [Martello Tower]
Reggie Ming Award for Most Beautiful Float – Nicky Gurret [Arching Arms]
Minister's Award for Most Original Float: Registry General
Ruth Thomas Award for Best Heritage Float – Department of Culture/Dr. Edwin Smith [Earl Cameron]
Dr. Kenneth E. Robinson Award for Best Primary School Float – PS Class 5, Dalton E. Tucker Primary School [Lighthouse]
Dr. J. Williams Award for Best Middle School Float – Clearwater Middle School
Dr. Marjorie Bean Award for Best High School Float – McKenzie-Kohl Tuckett [Warwick Academy Remote Learning Bear]
Mrs. J.J. Outerbridge Award for Best Individual Float – Hannah Emmerson/Bermuda Sandcastle Competition [Every Tempest Creates a Clean Canvas]
L.C.C.A. Award for Best Charity Float – Kaleidoscope Arts Foundation
Best Government Department – Registry General
Best School Class Float – 3D Saltus Grammar School [Parrot Fish/Coral Reef]
Special Mention – Y8A00 Warwick Academy – Gombey Hat, Y4M Saltus Grammar School Architecture