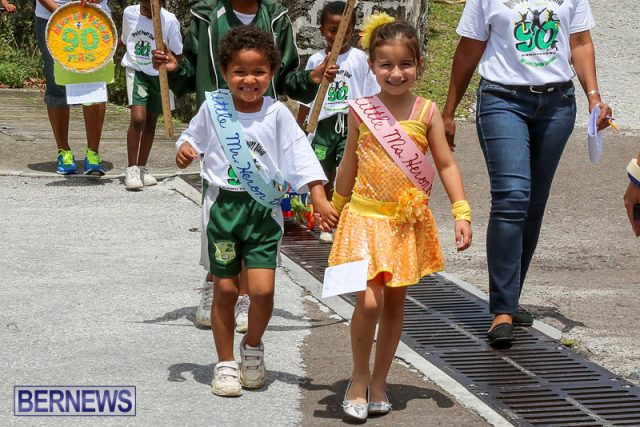 Heron Bay Primary School held their fourth Annual Heritage Celebration, with the annual event including a mini-marathon and a mini-parade.
A spokesperson said, "The event began four years ago with the intention of extending the social studies curriculum outside the classroom while, at the same time, fostering school and island pride.
"The mini-marathon is run by the Primary Three through Six students, while a Little Mister and Little Miss Heron Bay are selected [via secret ballot], by the staff, from the Primary One and Two classes.
"Students who run in the mini-marathon are encouraged to represent a notable personality from the annual derby – 'Sir' Stanley Burgess' white handkerchief, the Virgil twins' gloves, Ludwig Cann's horn etc.
"During the first event, the students assembled on the sidewalk near the school and simply paraded to school. However, the students and their parents went over and above expectations of the staff, so it was decided to extend the route the subsequent year.
As a result, the students now parade from Heron Bay Primary School, along Middle Road to the Market Place, and back – complete with a police escort. The Heron Bay School family would like to make particular mention of their Community Reach Officer, PC Bridgeman and her team, who make themselves available for this annual event!
"The neighbours of the school, like the 'real' parade, bring their chairs and sit along the parade route. The event culminates with snack and drink sales on the school field while the majorettes and gombeys engage in impromptu choreography.
"As a reward for their hard work, People's Choice Awards ballots are completed with prizes going to the best entry in six categories – floats, cultural and old-fashioned attire, majorettes, homemade hats, 'other' and gombeys.
"The Best of the Best is awarded to the overall favourite. A special award was presented this year in honour of the school's 90th anniversary. It went to the entry which best depicted the school's milestone anniversary."
Click to enlarge photos: