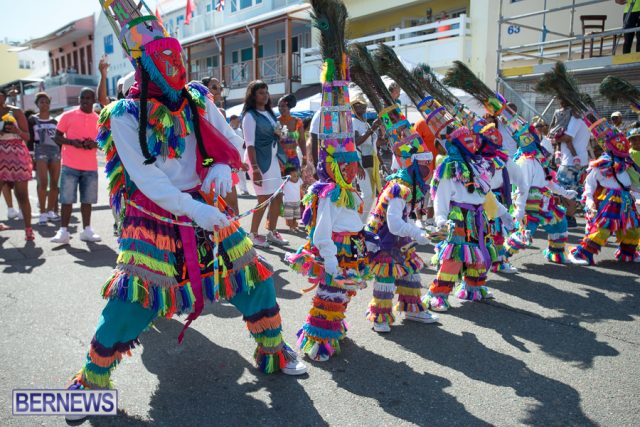 Thousands of people lined the streets to cheer on the hundreds of participants in the popular Bermuda Day Parade, which included a variety of floats, classic cars, marching bands, local celebrities, colourful costumes, and much more.
The parade got underway at 1.30pm, starting along Marsh Folly Road and continuing right through to the top of Cedar Avenue. The procession then made a left turn onto Church Street, followed by a right turn onto Court Street. The parade made its way through Front Street and up Queen Street, dispersing following final performances at the City Hall Car Park.
Earlier in the day, Tyler Butterfield thrilled road racing fans as he coasted to victory in the Bermuda Day Half Marathon, with his cousin Ashley Estwanik finishing as the race's top female. At the Sinclair Packwood Memorial Race, Shannon Lawrence and Zoenique Williams finished as the top male and top female, respectively.
In explaining the origins of the holiday, the official programme said, "Following periods of civil unrest in the 1960s and mid 1970s, the Bermuda Government commissioned Lord Pitt of England to examine the possible underlying causes of unrest, and to suggest possible solutions."
"From the 1930s to the 1960s, Bermuda celebrated the Easter Parade. This was a floral parade where the floats were decorated with fresh flowers. Many farmers grew flowers so that they could be in full bloom for the Easter period. This parade was the inspiration for the Bermuda Day heritage parade and seemed a fitting cure for the divisive atmosphere following the riots of the seventies.
"Lord Pitt interviewed many Bermudians who suggested Bermuda should organize an event to bring the people of Bermuda together in harmony and rebuild a stronger sense of civic pride. It was thought that a parade would provide an opportunity for camaraderie and celebration and help Bermudians grow in respect and appreciation for each other.
"This holiday would replace Empire Day, an annual May 24th holiday to recognize Queen Victoria's birthday, and be renamed 24 May Bermuda Day. The first Bermuda Day heritage parade took place in 1979. Today Bermuda Day has become the culminating point of Heritage Month and has grown in importance. It is the most celebrated holiday other than Cup Match.
"It is the day that Bermudians find various ways to showcase their pride in the beauty of our island — whether they participate in the parade, the marathon, have picnics on the beach, go for their first swim, gather and participate in the first of the season's dinghy boat races or simply just soak in the sun and beautiful waters of the Atlantic Ocean."
Click to enlarge photos: