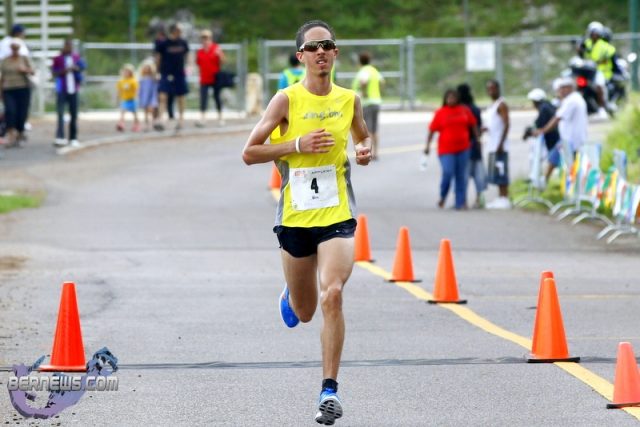 Chris Estwanik crossed the finish line first to claim his fifth consecutive title in Bermuda Day Half Marathon Derby which saw 700 runners cross the finish line. His wife Ashley Estwanik claimed the female title finishing in a time of 1:25:33.
Chris Estwanik has become only the fourth person in the history of the race — which began in 1909 — to win the title on five consecutive occasions. The defending champion joins Ed Sherlock who won in 1958-62, Sandra Mewett who won in 1988-92 and Kavin.Smith who won in 1999-2003.
The Estwaniks came into the race as the heavy favourites, and both took the lead from Somerset and maintained it the whole way to Hamilton. Speaking after the race Mr Estwanik said the conditions were quite tough during the race, while Mrs Estwanik said all the locals lining the route cheering on the runners '"brings a smile to my face no matter how I feel."
Mr Estwanik won in 1.08.49, with Sean Trott crossing the line in second in 1:14.48, Jay Donawa in third in 1:17.04, with Stephen Allen in fourth, Christopher Harris in fifth and 17-year-old Juma Mouchette coming in sixth.
Ashley Estwanik was the ninth runner across the line as she captured the women's title in a time of 1:25:33 and was followed across the line by Rose-Anna Hoey in 1:29:14 and Jennifer Alen finishing third in a time of 1:30:53.
Aaron Jacobs ran to victory in the 2012 Heritage Day Junior Classic crossing the line in a time of 11:17, Michaiah Robinson finished second clocking 11:30 and David Darrell rounded out the top three finishers with a time of 11:38.
Messiah Greaves won the 2012 Heritage Day Junior Classic Female Title, when she finished 19th overall with a time of 12:48, Selah Tuzo was the second female finisher with a time of 12:57 that saw her finish 22nd and one spot back was Azaria Robinson who clocked 13:01.
Click to enlarge photos: