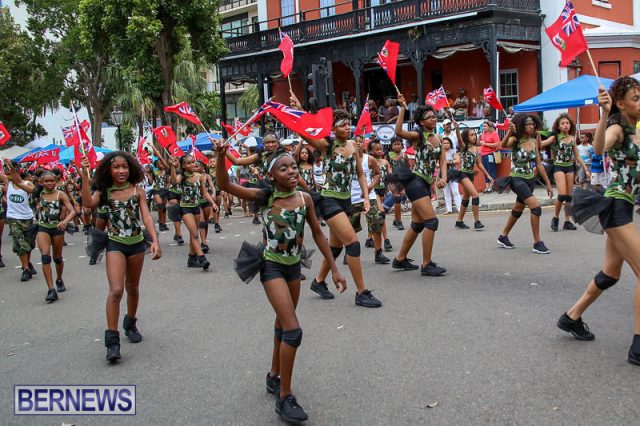 Gombey troupes, dance groups, majorettes, marching bands, floats and more made their way through the streets of Hamilton as thousands of locals lined the streets for the always-popular Bermuda Day parade, which kicked off in the afternoon, following the cycling and half marathon races which were held earlier in the day.
According to the programme, the groups taking part in the parade included the Bermuda Longriders Motorcycle Club & Association, St John's Ambulance, Royal Bermuda Regiment Band, Miss Bermuda Alyssa Rose, Miss Hospitality Kayla Williams, Bermuda Nurses Association Nurse of the Year Beverley Howell, Bermuda Rifle and Drill Team, a Special Olympics Bermuda Float, The Berkeley Institute Marching Panthers, Bermuda Shrine Club, For God's Purpose, Department of Corrections Float, and Warwick Gombeys.
Parade watchers were also treated to the Portuguese Cultural Association, Dynamic City Rockettes, It's a Skate Thing!, United Dance Productions, Gombey Evolution Troupe, Anchor Boys, Sui Generis Dance Team, Sandy's Middle School Float & Band, PHC Majorettes and Drum Corps, Calypso Queen Eileen and Goodtyme Entertainment, Place's New Generation Gombeys, Bermuda African Dance Company, Challenge Dance Crew, Bermuda Squad Entertainers, and Amigos da Casa dos Açores da Bermuda.
Additionally, the parade featured Vanity Dance Group, H&H Gombey Troupe, Dynamic Revolution Dance Group, Family Roots to Ability Shoots to Community Fruits Float, Boundary Breakers Dancers, Department of Community and Cultural Affairs Float, St George's Original Dancerettes, Gombey Warriors, The Bermuda Carnival Revelers and more.
Click to enlarge photos: